Welcome to Natural Living
We are a Completely GMO-FREE co-op!
We have recently gotten rid of all known GMO's on our shelves and are continuing to work with our local farmers, gardeners, chefs and artisans to maintain this. We are now listed with the Non-Gmo Project verified site and are working with other GMO-free projects to maintain this status for the health and well-being of our community.


Store Hours
Monday and Tuesday 11am to 2pm
Wednesday and Thursday 9am to 4pm
Friday 9am to 7pm (3pm to 7pm Pickup for Co-op Member's Orders)
Saturday 9am to 4pm (9am-2pm Pickup for Co-op Member's Orders)
​Sunday CLOSED
​
GARAGE SALE
to benefit the co-op
Sept 16 Fri 9am-7pm and Sat 17 9am-4pm
contact us to donate your kitchenware and sustainable/green items and help the co-op purchase a much needed freezer!
​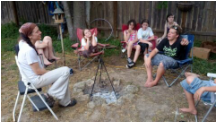 Upcoming Classes

*Sept 17 Sat. 5p-7p "Medicine Cabinet Makeover with Essential Oils"
Free Class
​Contact us to RSVP - space is limited

---
---